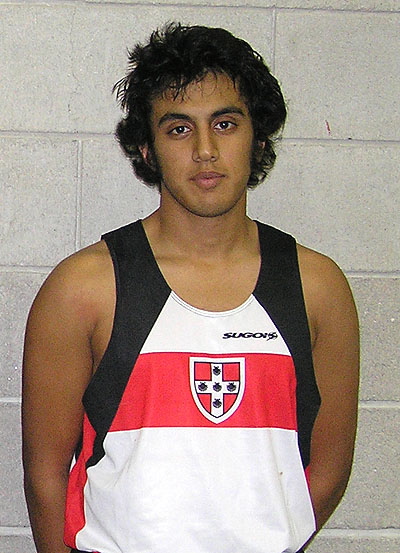 Hometown: Bayport, NY
High School: Northfield Mt. Herman
Events: 5k, 8kXC
Build: 5'8", 154 lbs
Personal Bests(HS): 400-55, 800-2:04, 1600-4:38,
5kXC-16:49
All about Rumman:
Personal Quote: "Exeter and Deerfield Suck"
This angry young man was brought up with the same badass attitude
as all of the Street-Swarthy Mt. Hermanites. Currently, he represents the dopest
of all freshman dorms, Nic6 where he is Resident Pimp Advisor. Occasionally
Snaggled by Toothy regimes, Rumman keeps it real with a smooth flow
and a chill attitude. As of now he is staying strong with the team,
not letting an upsetting injury from last year mark his true potential
to let it rip on the fields and around the track.
...He is the only Yankee D. Bird.