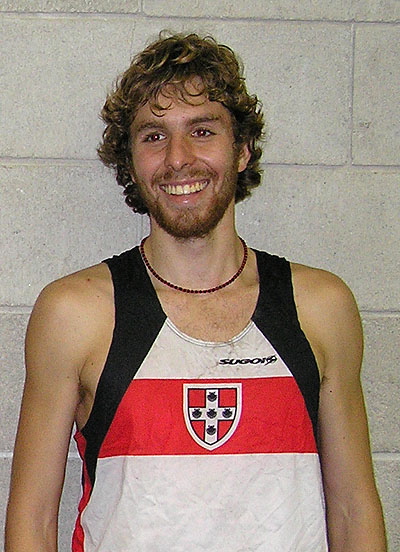 Hometown: Brookline, MA
High School: Brookline HS
Events: 3kXC, 5k, 8kXC
Build: 5'9" 145lbs
Personal Bests: 4:36 mile, 28:56 8kXC
All about Franco:
Franco
is always bustin
his hump on the track
and in workouts on the
fields of beloved MTown
wesxc but he's
also doing that
in his spare time,
always carefully
studying how he
can be a better
runner and that
is how he always
is improving. Also,
he's a big fan of big mileage, and as he
continues to pack it on, you know that soon enough
he's just gonna explode onto the scene with some crazy-big-ass times
that will freaking rock you tanko style. When he's not working his tail
off, franco enjoys hangin out at PsiU and just pimpin in general. He is
most likely the nicest man of the team, always there for his bros
no matter what the circumsizes. He's also a master of poetic tech-
nique, so if you ever need to woo a significant other, just
ask him. Franco, You're our man!